Autumn is here, and if you're anything like us, it can be a challenge to keep the momentum of healthy living going as the seasons change. Cooling temperatures can turn those morning jogs into a chore, but it's important to stay focused — achieving a healthier lifestyle is a year-round commitment, after all. That goes for exercise and your diet.
The changing seasons also bring new and tempting treats for those who live for this time of year: It's a time for heartier meals, apple pies, and everything pumpkin-spiced — even Panera is giving away unlimited drinks to customers for a limited time. 
With so many temptations out there, it's important you don't fall into unhealthy eating practices. (Sorry. We couldn't help it.) If you're looking to keep up with fitness-friendly eating, then meal kits are the way to go. The best meal kit services can help you to keep on track with a nutritious diet. 
They also help you to avoid pitfalls like high levels of added sugars or high-sodium intake, two big drivers of unhealthy diets in 2023.
"Meal kits provide fresh ingredients that are usually locally sourced with healthier cooking methods and minimal environmental impact," says Jennifer May, principle nutritionist and director of Sydney City Nutritionist Nutritionist and Food Intolerance of Australia.
You can typically find information on how different companies back up these claims in the "About Us" section on their website. Start here when looking for truly fitness-friendly meal kits, just like we did when putting together our list below.
Targeting weight loss through meal kits

Fitness-friendly eating is one thing, but what if you want to drill down and really commit? First off, your doctor is your best resource for planning lifestyle and dietary changes. Beyond that, we know that consistency is key when it comes to losing weight and keeping it off.
The average adult needs anywhere from 1,600 to 3,000 calories per day. Your personal limit is determined by a number of factors, from how old you are to how active your lifestyle is (the Mayo Clinic's calorie counter can help you narrow it down).
"Meal kits give you more control over the seasoning and nutritional content of your food," May says, "[which] is beneficial for those looking to tailor their diet to specific health needs." Pre-measured seasoning packets, for example, can help you to avoid loading up on sugar with each lean meal. Added sugars are another villain to avoid on your weight loss journey.
Meal kits make it easy to track how many calories you eat per meal. Many of the companies highlighted below serve up plenty of recipes that are high in protein, which can help stave off cravings and keep you feeling fuller longer.
For more, let's take a closer look at five of the most promising meal kit services to help with your healthy eating and weight loss goals:
Top 5 meal kit delivery services for fitness-friendly eating
Many of the companies on this list cater to specialty diets like keto, vegetarian, vegan, or gluten-free. 
"Understand which dietary needs or restrictions you must follow, and understand how to identify those ingredients," says dietitian Anthony DiMarino of the Cleveland Clinic's Center for Human Nutrition. "If you are following a gluten-free diet, for example, choose foods that do not contain gluten ingredients, such as wheat."
Take a look at the five best meal delivery kits for fitness-friendly eating and revamp your eating habits today.
Whether you're cooking for one or planning meals for a large family (or somewhere in between), you're bound to get something out of this list of health-conscious and nutrient-packed meal kits. There are organic recipes to bookmark, plant-based dinner options to consider, and wholly organic meals you just have to try for yourself.
Below, we break down five of the best meal delivery services you should check out for your health and fitness goals: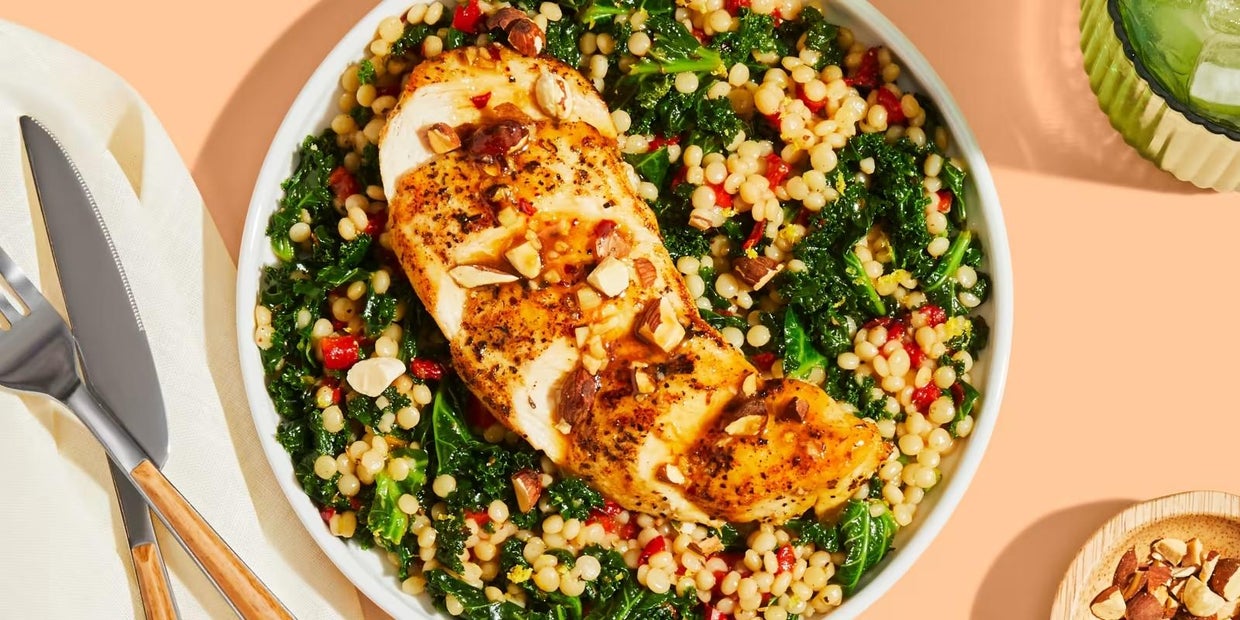 Green Chef has a lot to offer when it comes to healthy eating. With fully organic meal kits and seasonal recipes that will keep the excitement up as you pick your favorites each week, it's no wonder they're in the top slot. 
This meal delivery service caters to a number of restrictive diets with flexible meal plans, from plant-based preferences like vegan and vegetarian to keto, Mediterranean, and other diets geared towards weight loss. 
Take the Garlic-Honey Chicken dish pictured above. We highlighted this protein-packed (more than 40g!) meal for its tasty blend of healthy greens and chicken (garlic-honey glazed, of course, because it's the best) that will keep you feeling full after dinner is long over. There are 660 calories per serving, which falls right into the ideal range of 500 to 700 calories per meal for many weight-loss plans.
Go protein-packed when selecting your preferred recipes to hit your daily nutrition goals while eating delicious and organic meals each week. Alternatively, you can opt for the "Fast and Fit" option for lean recipes that are a breeze to prepare. Whichever you choose, there are more than 30 unique recipes to look forward to each month.
You're probably asking: "Can this get any more convenient?" 
The answer is yes, because you can set up your preferences, browse recipes, and place weekly orders all through your phone with the Green Chef mobile app (available on Android and iPhone). You can also use the app to track every delivery, making it easier than ever to plan your week around each and every order. If routine dietary habits are just as important to you as what you eat, than Green Chef is the meal delivery company for you.
Green Chef prices start at $12 per serving
---
Best vegan meals for healthy eating

: Trifecta Nutrition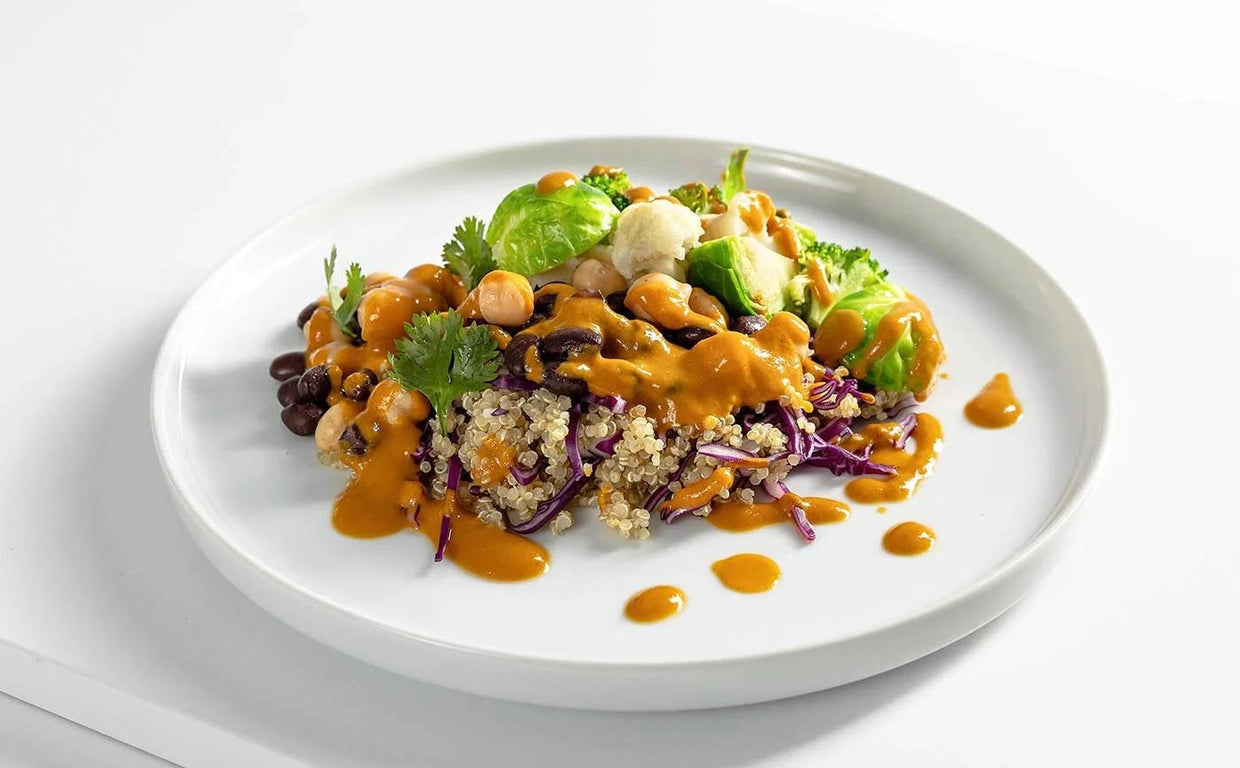 If your ideal weight loss regimen extends beyond the food you eat, Trifecta Nutrition has you covered with a more personalized approach to fitness-friendly eating. Instead of selecting from certain recipes on your own, with Trifecta Nutrition you're paired with a registered dietitian to build the ideal meal plan from the ground up.
One of the many lean meals you can get started with is the Quinoa dish pictured above with black beans, onions, spicy aïoli, and assorted greens. This vegan offering clocks in at just 430 calories per serving. It's low in protein (21g), but also low in total fat (15g) and sugar (10g), with 0 trans fatty acids.
With the Trifecta app (available on Android or iPhone), you can track your dietary goals, log workouts, jot down your water intake throughout the day – all the important elements of an active weight loss strategy. You can even learn a thing or two about the science behind weight loss by accessing additional resources through the app.
Trifecta Nutrition rounds out their offerings by helping you to build community with others are on the same track as you. You can join the Trifecta community and work with an accountability partner. This improves your chances of staying focused with your diet – it's harder to call it quits when you have to share your actions with someone else!
If your health and nutrition goals are less about hardcore weight loss and more about improving your eating habits or trying new and nutritious food, other meal delivery services on this list may be a better fit. But for anyone ready to commit to an effective weight loss journey, Trifecta Nutrition is a great place to begin.
Trifecta Nutrition prices start at $11 per serving
---
Best for a Weightwatchers diet

: Blue Apron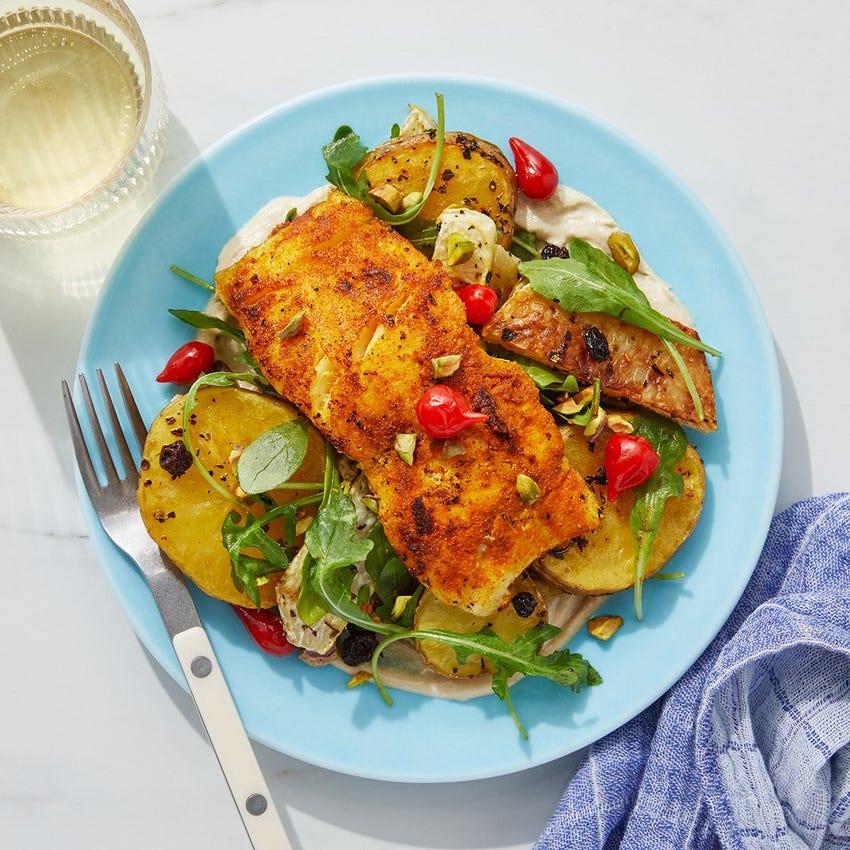 Do you like to gamify your responsibilities to be more productive? Then Blue Apron might be up your alley. This instantly recognizable meal delivery service not only offers more than 30 flavorful and healthy meals to choose from each week, but also has a partnership with Weightwatchers (who rebranded to WW in 2018) to offer several nutritious, WW-recommended meals each week. 
Meals like the Shawarma-Spiced Cod and Arugula Salad highlighted above are perfect for highlighting the sheer variety of cuisines available through Blue Apron. This Middle Eastern classic has 520 calories per serving, as well as 36g of protein and 55g of total carbohydrates. 
Track your WW Points as you cook each week to keep track of your daily and weekly goals. If you have the WW mobile app, you can even scan recipes as you go to log everything in real time. Just look for the WW logo on certain Blue Apron recipes to find delicious meals (each with their own unique points values). 
Every WW meal comes with a full breakdown of nutrition facts and a certain number of WW Points per serving. If you're wondering about adjustments or substitutions, don't: Blue Apron also lists alternate choices (such as substituting salmon for shrimp in the hearty Chimichurri Shrimp meal) and accounts for everything in the nutrition label. 
All of this can take the guesswork out of meal planning and make nutritious eating easier than ever. Blue Apron's flavorful and easy-to-cook meals are great for any lean diet, but they're the best option for anyone sticking to (or considering) a WW diet. 
Blue Apron prices start at $8 per serving
---
Best frozen meals for weight loss

: Diet-to-Go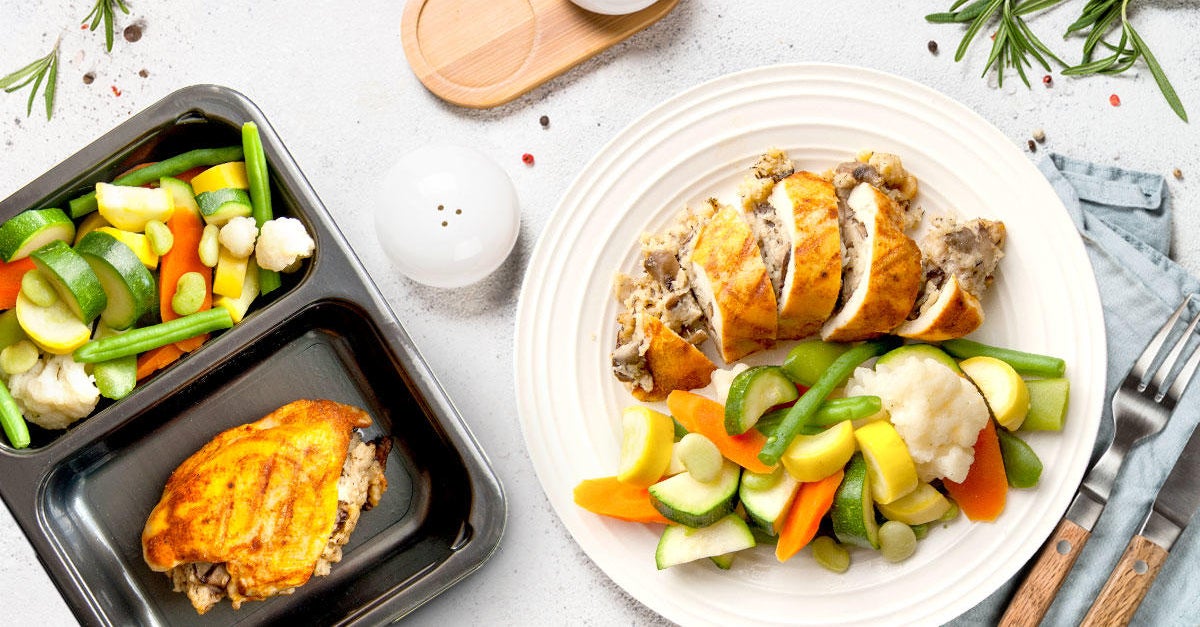 Sometimes you don't have the time or energy for a home-cooked meal come dinnertime; that's where Diet-to-Go's meal delivery service comes in. They specialize in fresh, fully cooked meals that are made up of locally sourced ingredients. The best part? Every meal comes premade and is ready to eat within minutes – no prep (or cookware) required!
For all you plant-based eaters, Diet-to-Go has a varied vegetarian menu. Vegetarian dishes are reworked versions of their traditional menu counterparts, which means you don't have to worry about missing out on an appealing recipe when making decisions each week. 
One such dish is the Stuffed Chicken with Steamed Vegetables, which is pictured above (and our personal favorite). It's so simple, yet tasty and fulfilling – just what you want from a fitness-friend meal! There are just 440 calories per serving, but keep in mind that this option (like many on Diet-to-Go's different menus) is a single serving meal. 
Like Trifecta Nutrition and others on this list, Diet-to-Go centers weight loss and healthy eating in everything they offer. Unlike some competitors, however, Diet-to-Go lets you order anywhere from two to seven meals per week. This way, you can build the perfect meal plan that goes hand-in-hand with your personal weight loss journey.
Diet-to-Go prices start at $7 per serving
---
Best keto plans for healthy eating

: Factor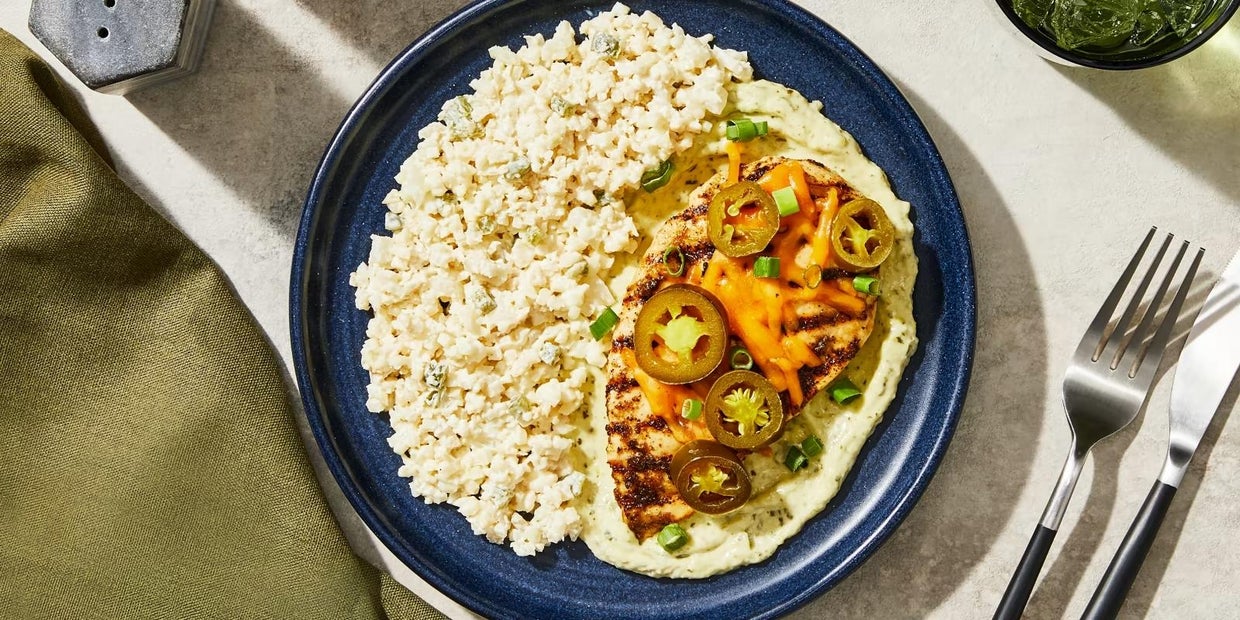 If fresh and never frozen meals are what you crave, then Factor has the chef-prepared and dietitian-approved recipes for you. Previously known as Factor 75, this is one meal kit company that has something for everybody.
One of their many meals that will have you questioning your opinions on frozen meals altogether is the Jalapeño Lime Cheddar Chicken meal pictured above. This lean dish has 610 calories per serving, as well as some other important ingredients: 4g of sugar, 3g of dietary fiber, and 42g of protein. This can also make for the perfect grab-and-go meal come lunch time as well as dinner. 
Choose from dozens of nutritious and delicious meals each week that fit with your dietary preferences. You can find macronutrient-packed keto dishes like the devilishly tasty Garlic-Mushroom Chicken Thighs with Creamy Cauliflower Rice and Garlic Green Beans, as well as low-calorie and plant-based meals, on their curated weekly menus. 
Want to add on a side to your order? Factor makes it easy with light and healthy mini dishes like the Sticky Pecan Pancakes (with Toffee sauce you have to try at least once). Don't forget to check out the Smoothie Variety Pack to get your daily does of fresh fruits!
Factor prices start at $11 per serving
---
How to pick the right meal kit for your weight-loss journey
Your first order of business should be to check out a company's list of current meal choices. Lean dishes packed with necessary macronutrients won't matter if you don't like the food! As always, start with your own personal preferences when deciding on a meal kit subscription.
"Look for a meal kit provider that uses a good mix of vegetables, lean protein, and healthy fats," May says, outlining a crucial next step. "Ideally you want to be using olive oil – not [another] vegetable oil or sunflower oils." 
Cooking oil is one of those ingredients that isn't always included in your meal kits, so keep a bottle on hand in the kitchen. You'll need it for recipes like the refreshing Mediterranean Chicken from EveryPlate (a runner up for best fitness-friendly meal kits).
Look for meal kits that support certain dietary restrictions. If a company offers vegan and vegetarian meal plans, for example, you can count on their commitment to healthy eating being more than just really good marketing.
Some additional factors to consider are:
Transparency: You want recipes that show the nutritional value of their ingredients. Knowing how many calories a dish has, and whether it meets your daily intake requirements, is vital to your weight loss journey.
Meal variety and substitutes: Are there numerous recipes that caught your eye right off the bat? Can you easily swap out a meal for a meatless or lean alternative? You want a weekly selection that feels exciting to peruse each week and is easy to customize to match your needs.
Quick and easy prep times: A quality that's always important when comparing meal delivery services, the convenience of a hassle-free dinner can keep you on the path of healthy eating. Some companies pack premeasured ingredients for a light cooking experience while others ship you frozen meals that can be heated up and plated in record time: Both are good.
Subscription costs: Don't neglect the price when considering meal delivery services. You want to save money over a trip to the grocery store when going with weekly deliveries, so make sure that a subscription is cost-effective. Figure out how much a delivery service costs per serving for the most accurate comparison.
How certain meal kits support a weight-loss-friendly lifestyle
One of the biggest roadblocks for weight loss is lack of consistency. It can be hard to stick to a restrictive diet week after week. Meal variety can quickly become a chore when you don your own chef's hat and try to cook for yourself. 
This is where meal kits come in. The best meal delivery service will help you to stick to healthy eating habits all year round. Signing up to have hand-picked recipes delivered to your door once or twice a week is a game changer. 
This can free a lot of time previously spent meal planning (or scrolling through a food delivery app, if we're being honest). Meal prepping is also easier than ever with delivery, since you can stock premade meals or leftovers in the freezer.
Meal delivery services also take some of the weight off your shoulders when it comes to portion control. Everything is measured out ahead of time and recipes are already chock full of the macronutrients you need to stay healthy.
How we chose the healthiest meal kit companies
Just what kind of diets are we talking about? They may include lots of whole fruits and vegetables, lean proteins, and whole grains. One way to lose weight is to reduce your daily calorie intake; cutting your total calories is easier than ever thanks to the readily available nutrition labels provided by every meal kit company highlighted here. 
We found and reviewed the top five meal kit delivery services that support healthy eating and keep things fresh with new and delicious meals each week.  
Every one centers lean recipes or restrictive diets with their subscriptions. To separate and rank these meal kit providers, we judged every choice by the following criteria:
Whole ingredients: We stuck with meal kits that offered health-conscious recipes built around whole fruits and vegetables, leafy greens, and whole grains.
Nutritious recipes: If it's nutrient-packed, carb-conscious, or portion-controlled, it's on our list. The best healthy meal delivery services deliver recipes that are put together with the kind of care your body deserves.
Keto-friendly meals: A ketogenic diet can be a great to lose weight. A number of meal kit companies serve up multiple high-fat, low-carb meals each week – so they're on the list.
Diet-specific plans: Healthy eating looks different for everyone, but certain dietary restrictions (no meat, no processed foods, etc.) can be easier to stick to when you sign up for meal delivery. Our chosen companies have delicious and varied options for fitness-friendly eating, plant-based diets, and more.
Read more about how we review products
---
Related content on CBS Essentials: