Carlo Ancelotti said he was surprised after Karim Benzema announced his departure from Real Madrid after 14 years.
Reuters are reporting that, according to state media, the 35-year-old has reached an agreement with reigning Saudi Pro League champions Al-Ittihad – managed by former Wolves boss Nuno Espirito Santo – and will sign a two-year deal.
Benzema scored a second-half penalty to earn Madrid a draw in their final league match of the season against Athletic Bilbao on Sunday. He finishes the season with 31 goals and six assists in 43 games in all competitions.
Speaking after that draw Ancelotti, who had previously suggested the club legend "should retire at Real Madrid", said: "Yes, it was a surprise, it was a massive surprise for everyone but we had to understand that he thought about it twice and this is part of a process that started at this club some years ago, a transition that will continue next season.
"So we have enough time to think twice about what we need to do (to replace Benzema) and the squad will be very competitive next season, I can assure you of that."
The former France international joined Real from hometown club Lyon in 2009 and has made 658 appearances, scoring 354 goals.
Benzema won LaLiga on four occasions and lifted the Champions League five times during a trophy-laden spell in the Spanish capital.
Real Madrid boss Carlo Ancelotti said he believes legends of the club should retire when at the club, speaking before Benzema's departure was announced

"Real Madrid CF and our captain Karim Benzema have agreed to end his brilliant and unforgettable period as a player for our club," the Spanish club said in a statement.
"Real Madrid would like to show its gratitude and affection for who is already one of our greatest legends.
"Karim Benzema's career at Real Madrid has been an example of conduct and professionalism, and he has represented the values ​​of our club. Karim Benzema has earned the right to decide his future.
Spanish football expert Alvaro Montero has the latest news on the futures of Roberto Firmino and Benzema

"Madridistas and all the fans around the world have enjoyed his magical and unique football, which has made him one of the great icons of our club and one of the great legends of world football.
"Real Madrid is and will always be his home, and he wish him and all his family the best in this new phase of his life.
"Next Tuesday, June 6, at 12:00pm, an institutional act of homage and farewell to Karim Benzema will take place at Real Madrid Sport City, which will be attended by our president Florentino Pérez."
Ancelotti pays tribute to departing Benzema after final game
Ancelotti paid tribute to the departing striker in his post-match press conference, telling reporters he had coached one of the "best players in the world" as well as complimenting the temperament of the veteran forward.
He said: "Well, being able to coach one of the best players in the world and one of the best strikers in the world, not just a striker, a very complete footballer. Someone very kind, very humble, very serious.
"It's obvious in his farewell, we cannot be happy but we need to respect his decision. He's earned the right to choose where he wants to be and I and everyone else want to thank him for what he's been able to do at this club which has been legendary. Something unbelievable and unforgettable and which will stay at the club forever."
How Benzema's departure from Real Madrid unfolded
LaLiga TV presenter, Semra Hunter says Harry Kane is Real Madrid's top transfer target as the club seek to replace Karim Benzema

Spanish football journalist Semra Hunter on Sky Sports News:
"The news started to break a few days ago in the Spanish media that he had this huge offer from Saudi Arabia that would be worth about €200m per season. As part of that contract, he would also be offered an ambassador role for the country as they bid for 2030 World Cup.
"The news spread like wildfire over here [in Spain] because it kind of came out of nowhere.
"In his contract at Real Madrid, he had a 'Ballon d'Or' clause, that if he won it, he would automatically get a year extended onto his contract. There was a verbal contract about a month ago that he would be staying and everyone thought that was the case.
Real Madrid head coach, Carlo Ancelotti outlines his plans to find a striker to replace the outgoing, Karim Benzema

"So this came out of left field and when he was directly asked about it, he said 'no I'm staying at Real Madrid and the reality is not what's being said on the internet' only a day or two later to do a U-turn and announce he was leaving.
"It's caught everyone by surprise – even Carlo Ancelotti and Real Madrid – and you can't fault him if this is what he feels like is the right choice for him.
"He's been at Real Madrid for 14 years, his body is starting to fail him, he didn't have a great season, even though he scored 30 goals, which is a great return. But he had a lot of injuries and missed a lot of games.
"He might feel like this is the right time to move on and has decided to leave."
Could Kane replace Benzema at Real Madrid?
Ancelotti remains tight-lipped on Real Madrid's interest in Tottenham's Harry Kane and insists respect must be shown to both the player and club

With the news that Benzema will leave Real Madrid at the end of the season having been confirmed, could the Spanish giants now move for Harry Kane to replace him?
The Times reported this week, before Benzema's exit had been confirmed, that Kane was among their targets to replace the Frenchman should he decide to leave.
Real boss Carlo Ancelotti refused this week to be drawn on the club's reported interest in Kane, who is Man Utd's principal target this summer.
"Like I've said many times, Harry Kane is a great player and a great player of Tottenham," said Ancelotti.
"We have to respect the player and Tottenham."
Kane No 1 option for Real | Mbappe 'impossible'
Watch Spanish football expert Alvaro Montero analyse Karim Benzema's departure from Real Madrid, and the possibility of the club finding a suitable replacement in Kane or PSG's Mbappé

Spanish football expert Alvaro Montero speaking on Sky Sports News:
"If you are asking me about the fans, I would say they want Kylian Mbappe, but everybody here in Madrid knows that is going to be impossible.
"In the last hours, press, fans and inside the club, they are talking about Harry Kane. Everyone believes he can be target No 1 for this summer for the club and also Carlo Ancelotti.
"Why? He's almost a 30-year-old striker who is very well-known around the world and they believe he won't need time to adapt because he is one of those players that can fit perfectly from the very first moment. They believe he's a safe bet.
"Among the press, the feeling is that Daniel Levy and Florentino Perez have got a good relationship and they believe that if Levy let the player leave, it would be for Real rather than another Premier League club. But everybody is speaking about €100m at least – and that's a lot of money.
"In the last few years, Real Madrid looked at everything from an economic point of view. They are about to present the new Bernabeu after four or five years of reconstruction and they know they can't spend a lot of money, like they did in 2009, for instance, when they signed nine or 10 players.
"They have to think about next year, when target No 1, which is going to be really expensive, is Mbappe."
'Havertz a good option for Real Madrid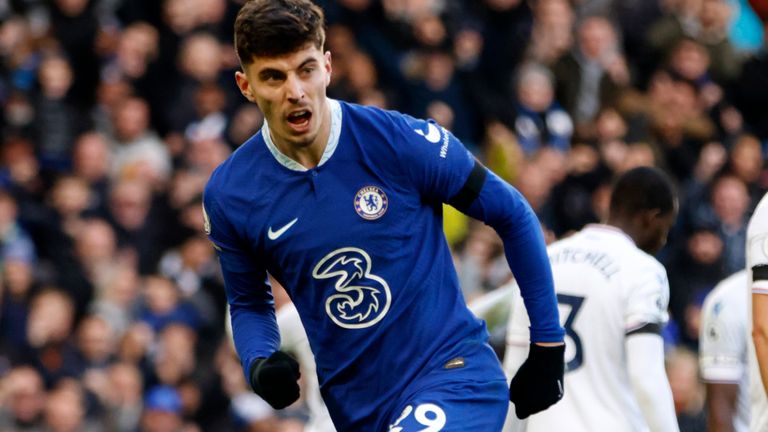 Spanish football journalist Semra Hunter on Sky Sports News after news from Sky Germany that Real Madrid are interested in Chelsea forward Kai Havertz:
"According to Spanish media, Havertz to Real Madrid is much more likely to happen as of right now than Harry Kane.
"We have to remember that they were really interested in Havertz about three years ago when he was at Bayer Leverkusen and the only reason the interest cooled was because of Covid. Real Madrid decided to rein in their spending, they took a little bit of time and the deal came in from Chelsea and he decided to go there instead.
"So they've always had interest in him and now might be the right time. He's not a pure No9, he can play in between them, he can play off of a No9 and could be a suitable option for Real Madrid.
"Maybe his goal count isn't as good as you'd expect. It was a disappointing season overall for Chelsea in general, especially in the goalscoring department.
"But he's certainly a young talent, he's 24 years old, and could be someone who fits in the mould of what they're looking for in terms of having players for a long time and continuing to develop their game.
"He is a good choice for them. I imagine it will be something we can see come to fruition, but Real Madrid are weighing up their options in general right now."