Oats and golden syrup, coconut and butter (although margarine is acceptable). These are the mainstays of an Anzac biscuit, not just according to general accepted culinary wisdom, but also the law.
For those with neither the time nor inclination to bake their own Anzac biscuits, Australia's major supermarkets carry products baked in-house and from third-party suppliers. But how good are they?
We gathered five Anzac biscuits available from Coles, Woolworths and Aldi, plus two Anzac-adjacent products that made use of oats or golden syrup.
Just as there are rules and regulations governing what qualifies as an Anzac biscuit, there are rules and regulations to assess the worthiness of one.
Our five tasters – including a former pastry chef – conducted a blind test of the biscuits. They were asked to assess them on their appearance (an even golden-brown); aroma (biscuity); mouthfeel (either pleasantly chewy or with a satisfying crunch); and flavour (balanced, perfumed with golden syrup and earthy with oats). The results of these subjective preferences were tabulated to give each biscuit a final score out of 100.
During the judging process, testers were permitted to share their observations, points of praise and grievances with fellow testers. Black Ceylon tea was provided, though testers sampled their biscuits unadulterated:dunking was strictly forbidden.
Ultimately, in assessing the quality of the Anzac and Anzac-like biscuits, testers were asked: would you serve this biscuit to your grandmother?
Best overall
Irrewarra all natural Anzac biscuits, $9.65 for 6, from Woolworths
Score: 85.4/100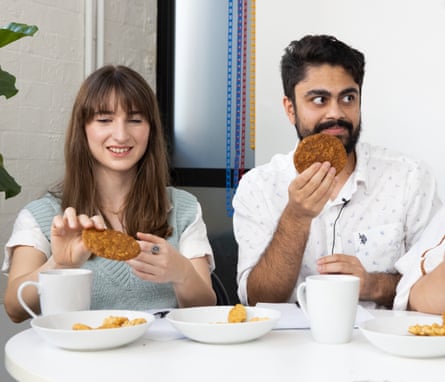 What the testers said: There was a notable lift in mood when biscuit number six was presented, with testers noting its generous size, appealing colour and likeness to the Cookie Monster's snacks of choice. They remarked on the depth and complexity of its flavour, with notes of molasses and caramel, with one tester noting that it was "leaving a little butter film on my fingers – lovely". This was the only biscuit on the lineup with butter in the ingredients list, perhaps accounting for this competitive advantage. The conclusion? "This is a beautiful biscuit."
Best value for money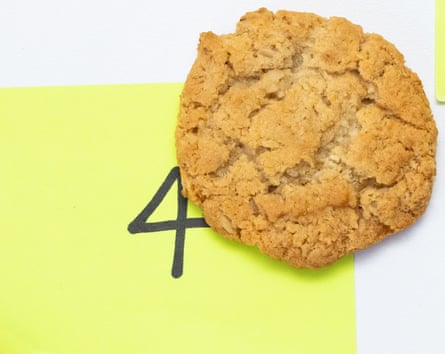 Coles Bakery Anzac Biscuits, $3 for 12 from Coles
Score: 73.2/100
What the testers said: When testers tucked into Coles' version more than halfway through their gruelling lineup, it seems the first biscuit they tried – from Woolworths' bakery – was still fresh in their memories, with many noting the "eerie" similarities in appearance: "It's not perfect, but it's biscuit number one's better version." Another tester agreed: "The prettier sister." Flavour-wise, the biscuit carried subtle coconut notes and a pleasing hum of golden syrup.
The rest of the test:
Woolworths Bakery Anzac biscuits, $5.50 for 24-pack from Woolworths
Score: 55/100
What the tasters said: In assessing the appearance of the first biscuit tried, one tester's "yellow" was another's "bright"; although the technical pastry term, "blond", is a polite way of saying it could have spent a little longer in the oven. Several tasters noted the "overly sweet" coconut aroma, carrying through to a "too sweet" flavour and "too chewy" mouthfeel. One taster said that masticating the biscuit felt like "an intense workout".
Unibic Anzac biscuits, $2.99 for 300g pack from Aldi
Score: 54.2/100
What the testers said: If the testing criteria had an ASMR component, this biscuit would have scored highly. "Whenever someone chews on it, it just sounds good," said one tester. On the tastebuds, however, it did not fare as well, with testers noting its overly dry mouthfeel, "like it's been left to hang out in the cupboard for too long". Upon snapping the biscuit to assess texture, a tester covered their notes with golden morsels: "You want to be able to break it without throwing crumbs anywhere." Another concurred sadly: "I'm showered in crumbs now."
Baker's Finest RSL Anzac Biscuits, bought for $3.40 for 300g from Coles but available at major and independent supermarkets
Score: 49.2/100
What the testers said: Testers observed that the biscuit looked "handmade" but also "unevenly baked" with one remarking on the lack of visible oats. They described the biscuit as overly sweet and "one-dimensional", with a pronounced coconut flavour. "This biscuit tastes like coffee," said one tester. "And I hate coffee."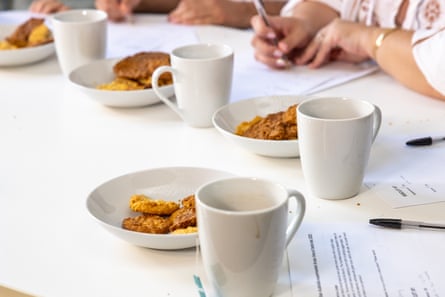 The not quite Anzacs
To be fair, these products do not claim to be Anzac biscuits. And to their credit, our blind testers quickly discerned these were not traditional Anzac biscuits. They are, however, shelf-stable, available year-round, and can probably be located in a major supermarket near you.
Carman's Muesli Cookie: Golden Oat and Coconut, $6 for 9 cookies
What the testers said: "I'm not sure this is actually an Anzac biscuit," said one tester, thereby circumventing the taste-test trap we'd laid out. The cookie evoked nostalgia and familiarity: "It tastes like McDonald's biscuits," was whispered.
Another tester, however, found the biscuit extremely dry and referred back to the assessment rubric: "It didn't have an even golden brown colour. It was biscuity, but wasn't perfumed with golden syrup or earthy with oats. Would I feed it to my grandma? Probably not. She'd choke."
Belvita Soft Bakes Golden Grain, $4.50 for 4
What the testers said: The testers were not easily deceived, likening the buckwheat biscuit's appearance to a "dumpling", its texture to "cake", and noting: "It's kind of damp, isn't it?" There were many remarks on the density of the oats and whole grain, leading one tester to theorise this was a "healthy" Anzac biscuit, and another to speculate on its potential as a "survival food, like if you're lost in the wilderness".