The products featured in this article have been independently reviewed. When you buy something through the retail links on this page, we may earn commission at no cost to you, the reader. The Sports Illustrated editorial team is not involved in the creation of this content. Learn more here.
Boxing isn't reserved for just champion fighters—it's a popular way to build endurance and pack in a full-body workout. There's no need to head over to a boxing gym to channel your inner Rocky either, as you can bring the ring to you with the best home boxing equipment.
We've rounded up the essentials you'll need to get set up, from training gloves to proper footwear.
Our Picks for the Best Home Boxing Gear:
Key features:
50 percent recycled material in upper
EVA midsole wedge for comfortable underfoot support
Grippy rubber outsole
adidas took their classic boxing boot and made it even better with the Box Hog 4. This latest version is designed to be 10 percent lighter than the previous model, while remaining breathable. adidas swapped out the upper materials in favor of textiles from 50 percent recycled content, making the Box Hog 4 its most sustainable training shoe yet.
These shoes have a flat rubber outsole with multidirectional lugs for grippy traction no matter your footwork. An EVA midsole wedge aims to provide both support and comfort underfoot, but the highlight is the high ankle collar. It's constructed to give athletes plenty of protection and support for the calf and Achilles tendon during sparring sessions.
Pros:
Recycled materials
Long laces for secure fit
Great for beginners and experienced boxers alike
Cons:
May be too narrow for wide feet
Key features:
Weighs 90 pounds
72 inches long x 14 inches wide
Thick straps and heavy-duty chain for durability
Need a long-lasting hanging bag that can take a punch? Titan's Muay Thai Heavy Bag is up to the challenge. Built with shock-absorbent materials to help minimize undue injuries, the Muay Thai is a solid choice for boxers, kickboxers, and MMA athletes alike. Plus, the durable materials promise to withstand strikes from all eight limbs, including pointy elbows and knees.
Unlike other heavy punching bags on the market, the Muay Thai Heavy Bag comes with thick straps and a burly chain so it's ready to go once you get it home. The bag is a bit longer than standard boxing-only bags, so the added length makes it easy to practice lower kicks.
Pros:
Affordable price for a heavy bag
Durable enough for all experience levels
Can be used by a variety of athletes
Cons:
Such a heavy bag needs a very sturdy hanging location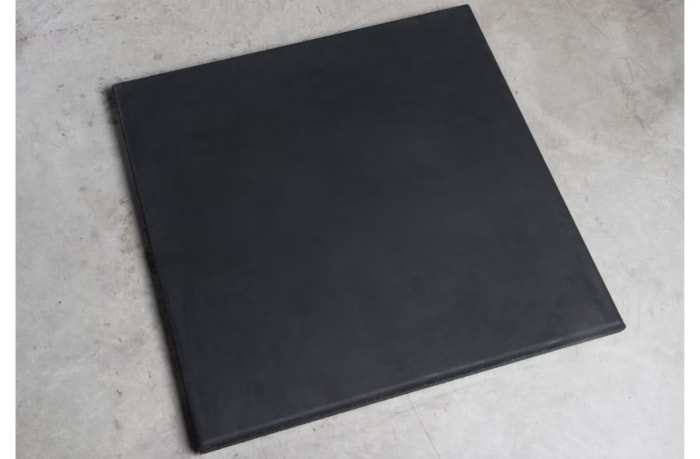 Key features:
28 pounds each
24 inches long x 24 inches wide x 1.5 inches thick
Waffled pattern to prevent sliding
Tired of slipping all over the place during your sweatiest sessions? Slip no more––these durable, rubber tiles by Rogue offer excellent traction during the most intricate footwear. Rogue offers the tiles in packs of six, eight, 12 or 16, so you can customize your flooring based on the space you have. Thanks to a waffle-like pattern on the bottom of the rubber tiles, you won't have to worry about them sliding around beneath your feet either.
Additionally, the Rogue Rubber Tiles are versatile for all your fitness needs. If you're a boxer who also strength trains, you can use these tiles to build a lifting platform or even adjust the height on a box squat. Bonus: In addition to protecting your floor, these tiles are engineered to absorb sound.
Pros:
Versatile configuration
Robust floor protection
Grippy patterning to hold in place
Cons:
For more information on strength training at home, check out our Best Weightlifting Apps Review.
Key features:
Comfortable padding for safety
Perforated palm for breathability
Velcro strap for easy adjustment
These Venum Elite Boxing Gloves are made to punch above their weight class. Designed to be one of Venum's most durable options, these boxing gloves are a great pick for beginners thanks to their relative affordability and thick padding. Four layers of foam with varying densities absorb shock where needed and even out impact. And, the natural hand position works to help prevent injuries, even if you're just a beginner. That being said, more experienced boxers may prefer to feel the bag more than the Elite gloves allow.
Venum helps keep the price down by forgoing leather in favor of a high-quality microfiber that adds durability. When combined with the hand-stitching and wide range of sizes, you can get a quality pair of gloves that fit a wide variety of boxers.
Pros:
Extra padding for lots of protection
Natural fit to prevent injury
Wide range of sizes
Cons:
Ample padding makes it tough for boxers to feel out their punches
Key features:
Knuckle foam designed to absorb shock
Added wrist strap for wrist support
Reinforced elastic construction around hands
Hand wraps are critical to protecting your hands, but putting on traditional wraps can be time consuming. The Attack Nitro Speed Wraps are made to have a secure fit and comfortable design to hold up during training. Title Boxing infused half an inch of foam into the knuckle and fist area to help uptick the impact resistance all around your hand. The fit is snug to either allow you to easily slide beneath your boxing gloves, or wear them solo for a light training session.
An adjustable strap wraps around the wrist for added support, secured with a hook-and-loop (generic Velcro) closure. Bonus: Wearing these inside your boxing gloves can help keep the sweaty stench away for longer.
Pros:
Easy to put on and wear
Designed to fit seamlessly beneath boxing gloves
Adequate padding for protection
Cons:
Not enough wrist support for experienced boxers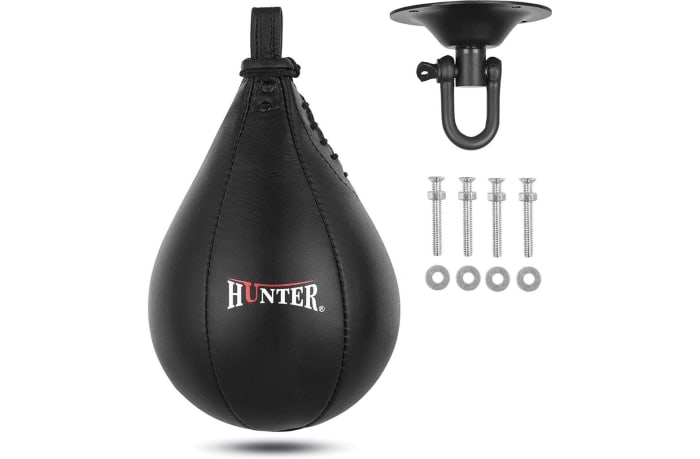 Key features:
9.5 inches long x seven inches wide
Genuine leather lined with cotton
Balanced for rebound accuracy
Latex bladder
The Hunter Speed Bag packs a punch when it comes to quality and affordability. It has a latex bladder wrapped in genuine cow hide leather. The bag is individually shaped and balanced, ensuring there aren't any awkward bulges to throw off the rebound accuracy during tough speed sessions.
As an added bonus, the Hunter Speed Bag comes with its own hanging swivel and screws, so you don't need to gather additional materials from the hardware store. It does require a pump, but doesn't take too long to inflate. Latex bladders do need to be reinflated regularly, so be sure to keep it pumped up for its best performance.
Pros:
Durable leather shell
Affordable price tag
Setup hardware included with purchase
Cons:
Regularly deflates so you'll need to pump it up weekly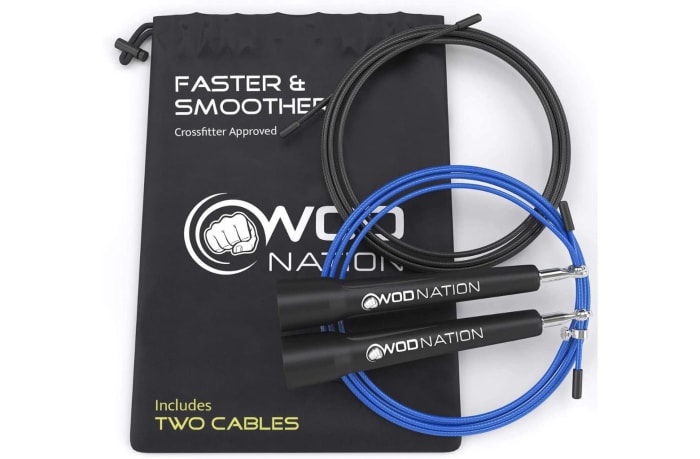 Key features:
Steel-cable jump rope
Includes replacement cable
Four-bearing system for fast turnover
Jump ropes are an effective way to help improve your footwork and endurance training, and the WOD Nation Speed Jump Rope is a durable jump rope up to the task. This 2.5-millimeter coated cable rope zips around thanks to the four-bearing system used in the handles. There are two ball bearings in the handle and two on the tips to hold the cable, ensuring a lightning-fast turnaround time while jumping.
This rope measures at 10 feet long, which may be too much for most boxers. However, it's easy to adjust; grab a pair of wire cutters and snip it to the appropriate length. The kit also comes with a carrying bag so you can easily stash the speed rope away until next time. Be sure to only use the jump rope on smooth surfaces as pavement will shred the coating.
Pros:
Handles are big enough for most adults
Ultralight and fast for footwear practice
Great value, especially with replacement parts
Cons:
Cannot use in a basement gym with concrete floors
Will need to be adjusted based on your height
How to Choose the Best Home Boxing Equipment for You
Consider your boxing goals
When choosing the best home boxing equipment, make sure you're taking into account your experience level. Someone who has spent time sparring in a ring will have different gear needs than someone who wants a fun workout a few times each week. Consider your level of commitment before deciding which gear you need to purchase. And regardless of your experience level, getting quality equipment with premium materials that hold up will be key. Additionally, your use will affect the type of punching bag you need. Do you want a full-body workout filled with lower kicks and jabs? Then you likely want a longer, heavier bag. But if you'd rather work on your punching rhythm, a speed bag is probably your best choice.
Evaluate your space
Before you begin, figure out there your boxing gym is going to be. It needs to be spacious enough for both your exercise equipment and for you to move around freely. If you plan on using mats like the Rogue Rubber Tiles, be sure your home boxing gym has a floor that you don't mind covering up with rubber mats. Finally, scope out the surrounding area and be sure you can adequately rig a punching bag. If you have no way to hang a heavy bag, you'll need to consider a speed bag or a freestanding heavy bag.
How We Chose the Best Home Boxing Equipment
In order to find the best home boxing equipment, we researched dozens of boxing gear sold online and at a range of retailers. We combed through boxing shoes, punching bags, boxing gloves, wrist wraps and boxing accessories to find the best choices. In doing so, we compared their value, quality of construction, durability and overall price.
What Home Boxing Equipment Do You Need?
When you first decide to set up a home boxing gym, it will likely feel daunting. With so many options out there, it's tough to decide which boxing equipment you actually need. Fortunately, you won't need too much to get started.
There are three non-negotiable items every boxer should have: boxing gloves, boxing hand wraps and a punching bag. Boxing hand wraps provide a bit of wrist protection and support, as well as extra knuckle protection. You can opt for speed wraps like the Title Boxing Nitro Speed Wraps or you can go with traditional hand wraps. Boxing gloves are a crucial item because they offer the most cushioning to protect your hands. Getting injured is no fun, and gloves are the best way to prevent that.
Finally, it's important to get a punching bag for you to use during your training. If you're just starting out, you'll likely want a heavier bag that is either freestanding or hanging, like the Titan Muay Thai Heavy Bag. Once you gain more experience, you may want to add a speed bag into the rotation to improve your skills.
As you learn more about boxing, you'll likely want to add to your list of workout equipment. That's when you'll want to consider specific boxing shoes and flooring.
What to Look for in Home Boxing Equipment
Fit
If you're investing in boxing shoes, fit is important. You want them to be comfortable but snug so that your feet don't slide around laterally. You'll also need to decide if you want a mid-top shoe or a high-top shoe, like the adidas Box Hog 4. Higher ankle collars offer more ankle support but less mobility, so it comes down to your preference.
For speed wraps, fit is also a factor to consider. Since the wraps should fit beneath your gloves, you want them to fit snugly for protection without adding bulk. However, you don't want the elastic around your fingers and wrist to feel constricting.
Durability
Boxing gear is built for constant impact, so durability is a primary concern. However, even the best boxing gloves will wear out after a year or two of heavy use. When selecting your gloves, you'll have to choose between leather or synthetic materials. Synthetic materials are less expensive than leather and may look just as good. However, they don't have the inherent durability of leather. Assuming the same use, leather gloves will last longer.
When considering a punching bag, look for a heavy-duty bag constructed with quality materials. Heavy bags wrapped in leather, synthetic leather or vinyl will typically last longer than heavy bags wrapped in other materials.
Training needs
Understanding your use as a boxer will help guide your purchases when selecting the best home boxing equipment. For example, if you're more of a "weekend warrior" who will hit the bag once or twice per week, you don't likely need to invest in the same amount of gear as someone who boxes daily. Additionally, knowing your type of boxing will be helpful in making decisions. If you want to do a lot of fast-paced, rhythmic punching, a speed bag is your best bet. However, if you want to use a bag for kickboxing or Muay Thai, a heavier bag is the way to go.
If you also want to up the ante with your boxing training, app subscriptions like Future bring a boxing coach to you for personalized training.
Space considerations
It's impossible to build out a home boxing gym without first knowing where it goes. Home boxing gyms don't require a lot of room, but you should be able to both hang a punching bag and move around freely without hitting anything. You also need to consider the type of structure you have if you need to hang a heavy bag. If your ceiling can't support the added weight, you'll need to invest in a freestanding heavy bag rather than a hanging one.
Cost
High-quality gear comes with a higher price tag, so determine your budget in advance. One of your biggest upfront costs will be your punching bag. Hanging bags usually run anywhere from $100-300. However, if your space determines that you need to purchase a freestanding heavy bag, that price jumps up to the $200-400 range.
Boxing gloves will be your other initial cost. You can get boxing gloves for as low as $25 or you can find premium gloves for over $200. Beginner boxers, don't get sucked into expensive purchases that you don't need. If you're just getting started in the sport, it's okay to begin on the lower end and work your way up over time.
Who Should Try Home Boxing
Since home boxing offers both strength training and an aerobic workout, it's a great option for anyone who wants to pack a lot into a short window of time. Even just 15 minutes of speed boxing can get the heart rate up, work multiple muscle groups and burn fat due to its high intensity. If you want to lose weight, boxing is also an effective solution. Not only will your newly-acquired muscles burn added calories, but the aerobic nature of boxing will burn more calories in less time.
Who Shouldn't Try Home Boxing
While home boxing does improve bone density, individuals with osteoporosis may want to avoid the activity. High-impact exercises with "jerky" movements can lead to additional bone fractures, so it's worth consulting with your doctor if you find yourself in this position.
FAQs
Is boxing a good at home workout?
Yes! Not only is boxing a fantastic strength workout with moves like punches, jabs and uppercuts, but it also increases your cardio fitness in a manner similar to high-intensity interval training. It is also easy to tuck away into a corner of the basement or a small area in the garage since you don't need a large rig or excessive equipment.
Is boxing at home good for weight loss?
It has been proven that boxing at home is an effective exercise for fat loss. It is a full-body workout that simultaneously increases strength and cardio endurance. While the aerobic impact directly burns calories, it's important to remember that increased muscle mass also burns more calories in a resting state. As a result, at-home boxing workouts can burn upwards of 800 calories per hour.
What is the most effective boxing style?
Depending on your preferences, there are various boxing styles out there such as shadow boxing, slugging, pressure fighting, out-boxing or even counter-boxing. However, none of these boxing styles are more effective than the other since they all have pros and cons. Find the one that works for you and stick with it.
Final Thoughts
Regardless of whether you're looking to bolster your fitness routine or add a few technical skills to your boxing arsenal, a home boxing gym will accomplish the goal. We recommend starting with the essential gear—punching bag, boxing gloves and hand wraps—before jumping into all the additional accessories. With the best boxing equipment for home gyms on this list, we're confident you'll take your sparring to the next level.
Prices are accurate and items in stock as of publish time.